Cinnamon Scrolls with Orange Cream Cheese Filling
I have a soft spot for cinnamon scrolls…….lazy Sunday mornings are made for them (and coffee, of course)!! This is a delicious version I came up with which includes the beautiful warmth and sweetness of cinnamon and orange. Start making them at 8am and you'll have them ready for brunch. I hope you love them!
Cinnamon Scrolls with Orange Cream Cheese Filling
makes 16 buns | prep + cook time = 1hr 10 mins, plus resting time 1hr 30 mins
Ingredients
Dough
250g milk, warmed to body temperature
1 heaped tbs honey
2 tsp instant dried yeast
80g unsalted butter, very soft
1 tsp salt
2 eggs, room temperature
600g bread flour
1 extra egg for glazing
Pearl sugar for garnish (or brown sugar if you don't have pearl sugar)
Filling
250g cream cheese, softened
zest of 1 orange, plus 1/2 the juice
1/2 cup icing sugar
1/2 tsp ground cinnamon
1/2 cup sultanas
Orange Blossom Syrup
1/4 cup caster sugar
50ml water
1 tbs orange blossom water
Method
In a stand mixer bowl, add the yeast and honey to the warmed milk and allow to sit for a few minutes to activate the yeast. Once the yeast is foaming slightly, add the remaining ingredients except for the extra egg. Using a dough hook mix the dough for approximately 10 minutes on low speed. The dough will begin to come away from the sides of the bowl and form a nice smooth elastic dough ball. Tip the dough into a lightly oiled bowl, cover with cling wrap and place somewhere warm for 30 minutes (I put mine in my oven on 30C).
To make the filling combine all filling ingredients in a stand mixer bowl (or use a hand held mixer, or good old fashioned elbow grease and do it by hand) and using a flat beater, beat until smooth. Put aside until required.
Tip your dough bowl (which should have almost doubled in size by now) onto a lightly floured bench and roll out into a rectangle around 1cm thick.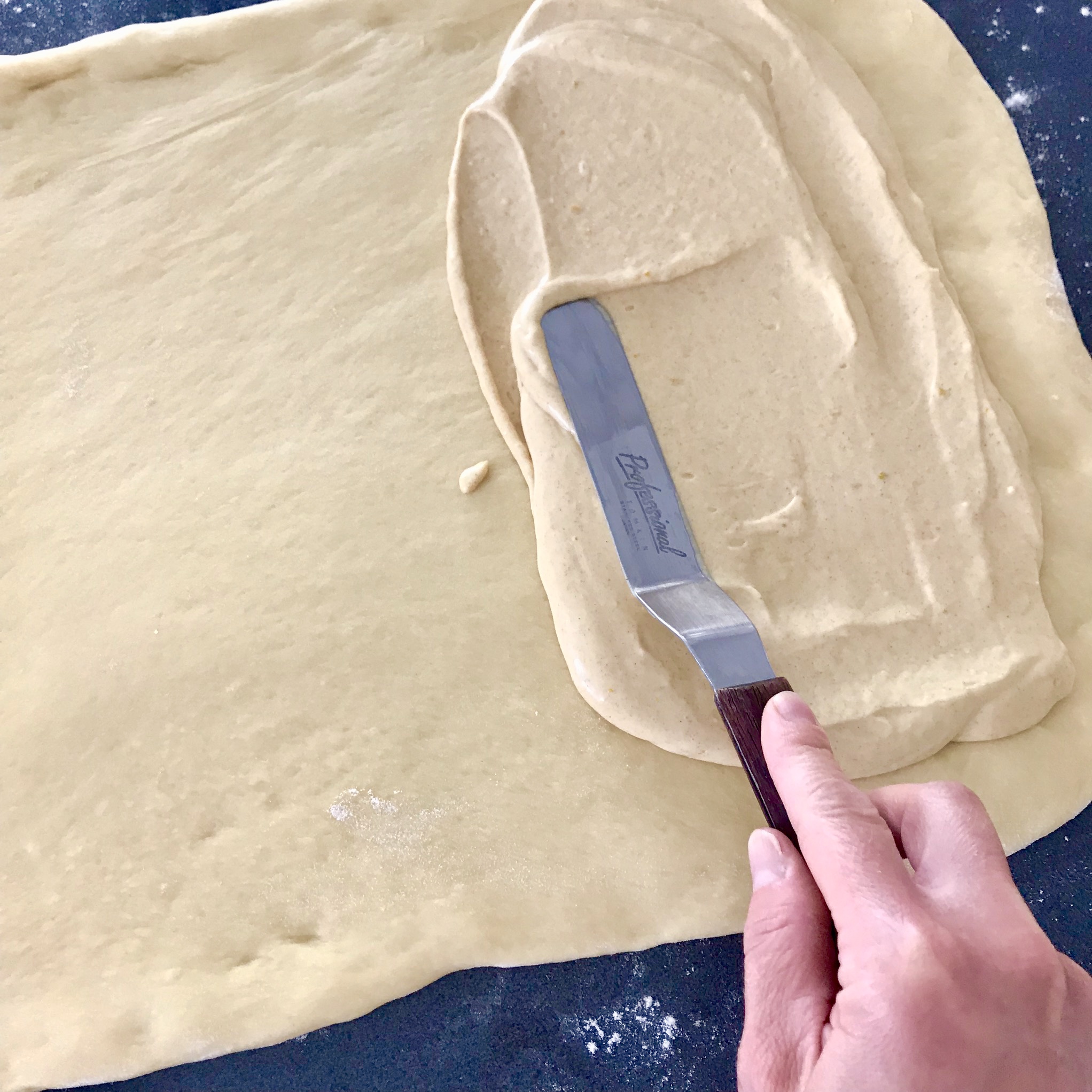 Using a spatula, spread your cream cheese filling all over the rectangle leaving a 1cm edge on the long, far side of the rectangle. Sprinkle evenly with sultanas.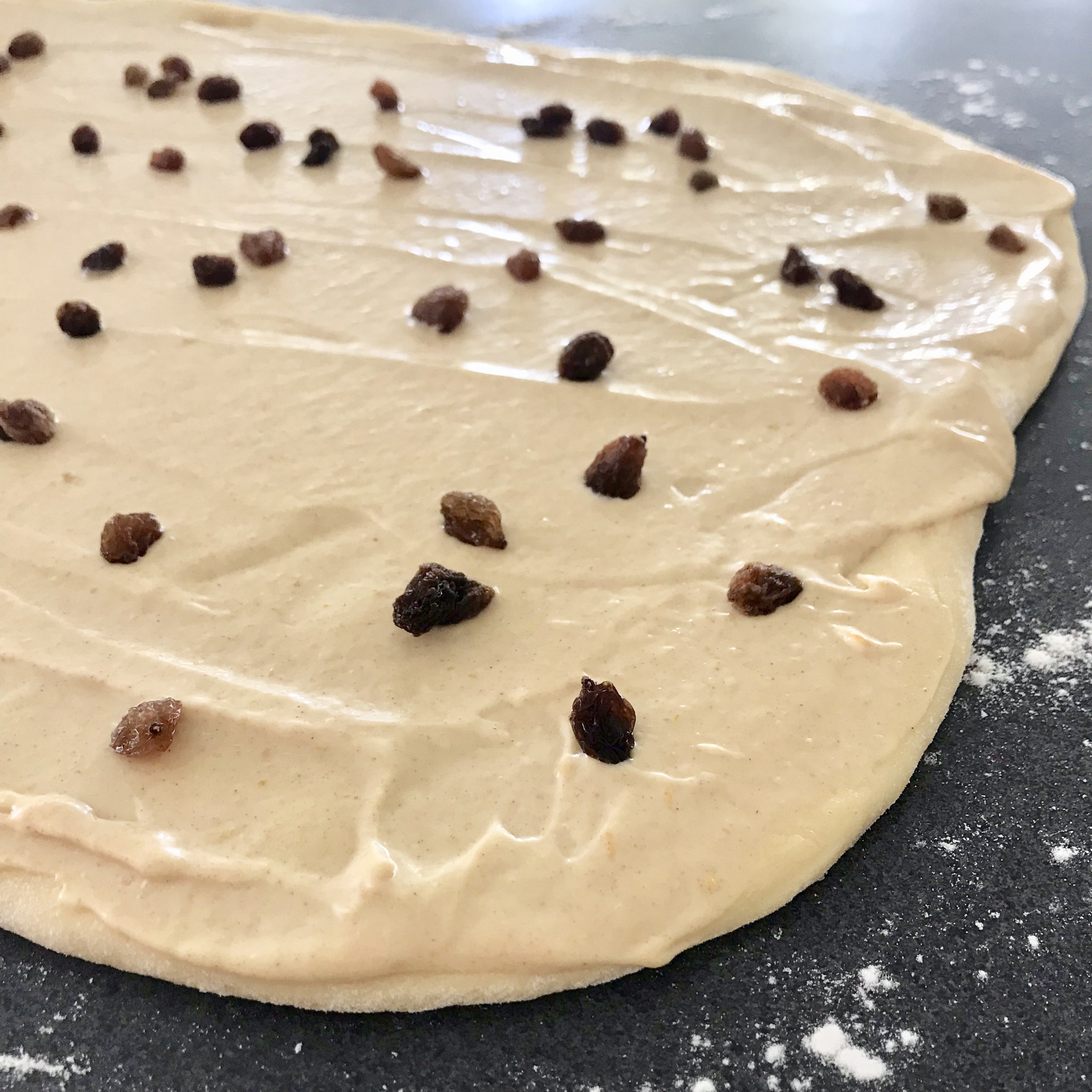 Sprinkle evenly with sultanas.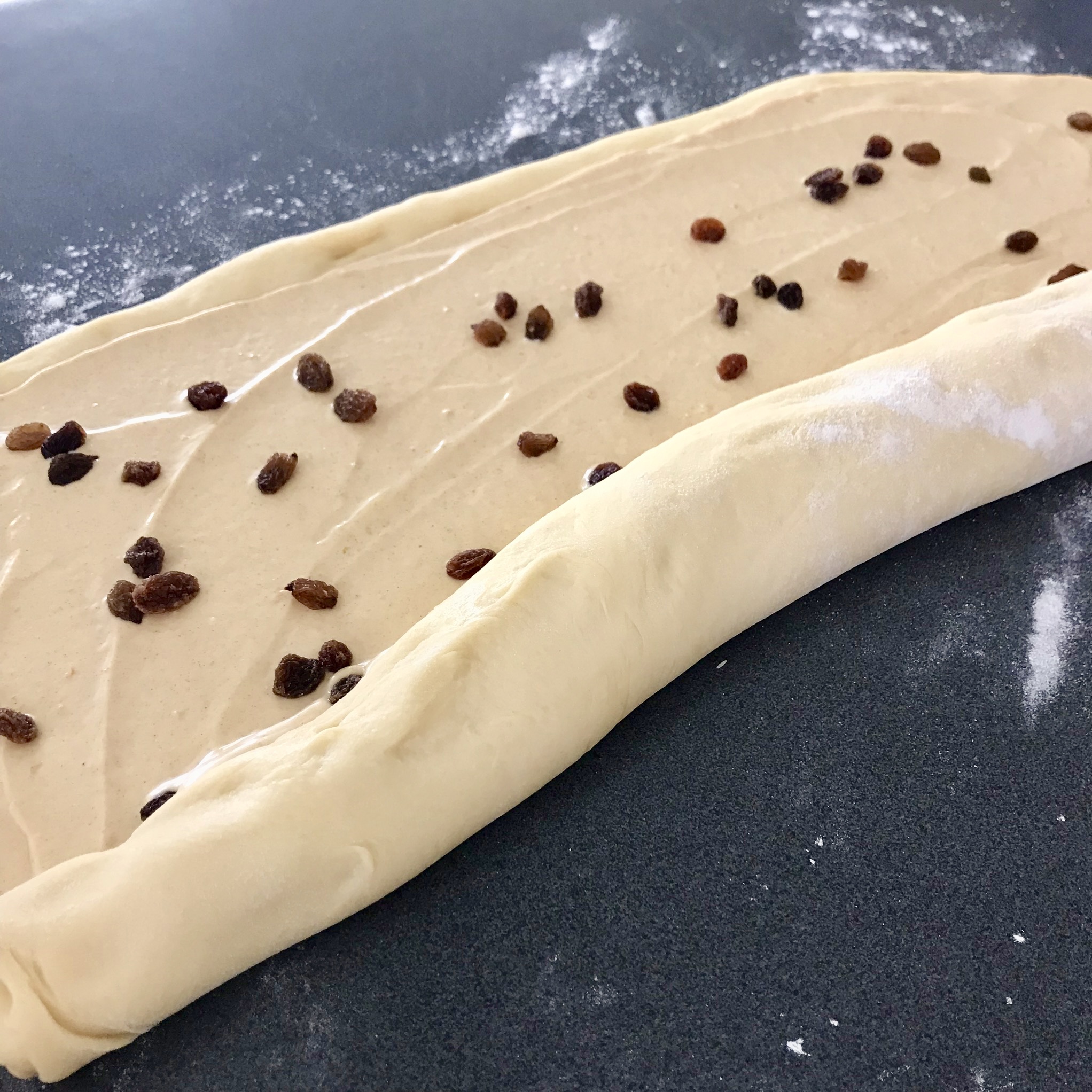 Carefully lifting the long edge of the rectangle (closest to you) start rolling up your dough - it does not need to be tight, but rolled firmly.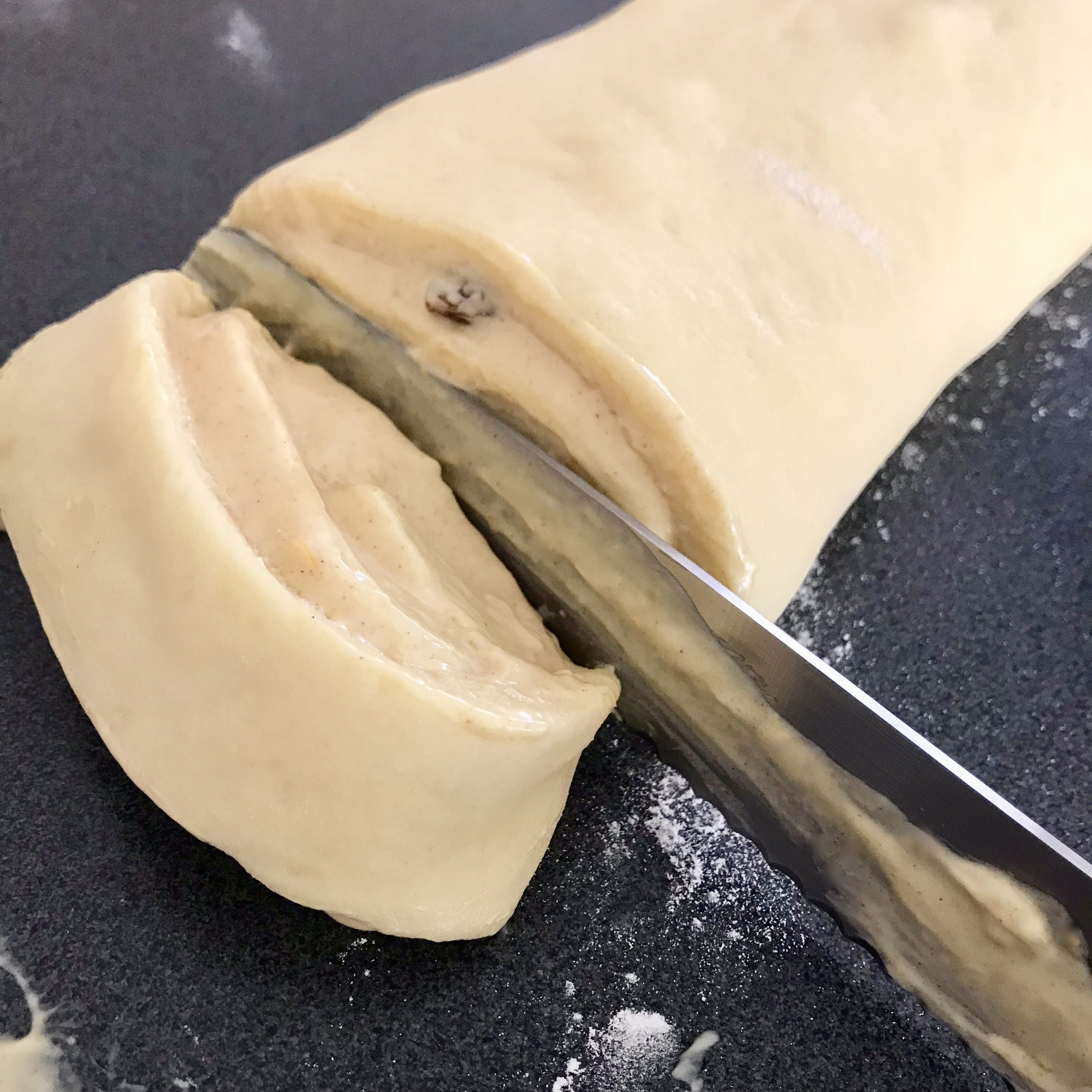 Using a bread knife and a gentle 'sawing' motion, cut the roll into 2cm thick slices and place cut side down onto a lined baking tray.
The buns should not be touching each other (leave around 3cm space between them - they will expand with the proofing process). Allow to proof for 1 hour in a warm place (again, I use my oven, but just with the oven light on this time - the light gives a little warmth but without the fan to dry out the dough). If proofing in open air, cover the buns loosely with cling wrap.
After an hour, preheat the oven to 180C. Beat the extra egg until well mixed and gently brush the egg wash over the buns. Bake for approx 25 mins until golden brown.
Whilst the buns are baking, make your orange blossom syrup by combing the sugar and water in a small pan and bring to the boil to dissolve the sugar. Remove from heat and allow to cool before you add the orange blossom water.
Remove the buns from the oven and immediately brush with the orange blossom syrup and sprinkle generously with the pearl sugar.
If you can resist, allow them to cool a bit before you start gorging on them - the filling is hot!!
Mel xoxo